ADVANCED CERTIFIED QUICKBOOKS® PROADVISOR
QuickBooks® is a powerful and insightful tool used to evaluate the fiscal fitness of your business.
In order to be effective in delivering sound financial and accounting reports, Quickbooks® must be set up properly to ensure you are obtaining accurate, up-to-date information.
As an Advanced Certified Quickbooks Pro Advisor® (one of only five in Gwinnett County) I am able to deliver timely information so that you can make informed decisions regarding your ongoing business activity.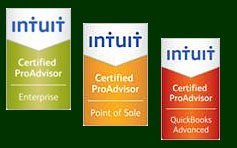 I will assist you with:
Installation and set up
Training
Conversions from other accounting software packages
On-going training for new and existing employees
Technical Support
Customized reports tailored to your individual business needs
I will assist you beyond the basics of generating accurate financial reports.
I will teach you to read and understand the accounting information, derived from QuickBooks®, so that you can run your business more efficiently from a financial and tax standpoint.